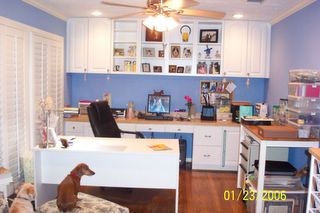 My newly organized crafts room!

So you want to know what I did most of last weekend! Well, I certainly didn't learn how to put pictures on this thing... but I did manage to empty my crafts room and then reorganized it! It is in terrific shape and I'm very happy with it. You can't see the bookshelf to the left and my elfa cart (that I lurve!) - it was stuck between the table and built ins and I felt cramp so it has a new home and I can roll it over to the desk when I am creating! My goal is to the keep the desk top clear so I can come home from work and just create! Its hard to see but there is an in box and I mean box, on the table, right as you walk in. All the mail and paperwork goes in there - with the lid on so I don't feel the need to be organizing and filing or paying bills. Out of sight, out of mind. You see my faithful followers, Gracie and Killer. Killer is the mini dach and my shadow. He follows me everywhere I go. Gracie is a 4 year old lhasa who is a sweetheart and thinks everyone who comes to our house is there to play with
HER
! She is sweet and cuddly. I have a few more pics posted on Two Peas photos ... but don't ask me to put a link in here... I've tried and can't get it done so I give up for now!